Distinctive and sophisticated, JR Kyushu trains are full of character and unique features.
Here, we will introduce three types of trains with different features.
Design & Story Trains
(Sightseeing Trains)
JR Kyushu trains are full of character. Noted for their distinctive and sophisticated exteriors and interiors, they are packed with unique features which allow passengers to enjoy Kyushu's breathtaking landscape and passing scenery. Riding Design & Story Trains (sightseeing trains) brings out the best of Kyushu and is an unforgettable experience in itself.
YUFUIN NO MORI
Resort train that leads you to Yufuin, an exquisite hot springs resort.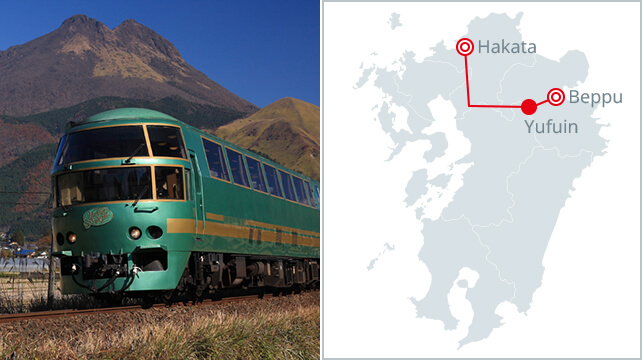 ASO BOY!
Let' s go see the Aso caldera! The train will take you there as you play with "Kuro".
A-TRAIN
Named after a famous jazz tune, this is a train for adult travelers that transports those on board back to the good old days.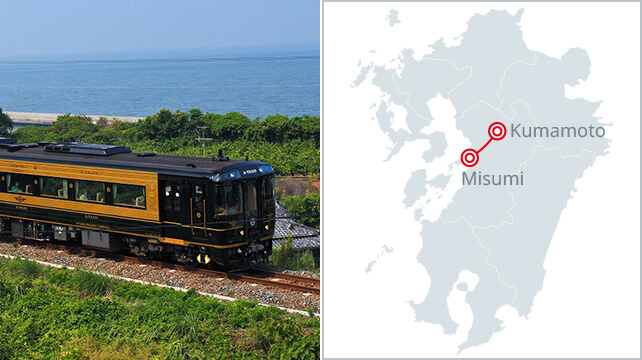 IBUSUKI NO
TAMATEBAKO
Try this moving monotone magical treasure box. White smoke billows when you board!
UMISACHI
YAMASACHI
Nichinan Line's resort express allows you to enjoy the rich natural surroundings of Miyazaki, a land of myth.
KAWASEMI
YAMASEMI
Experience the Hitoyoshi/Kuma region like the wild birds that frequent its majestic mountains and crystal clear streams.
SL HITOYOSHI
A nostalgic train ride where you can hear, smell and feel the power of the locomotive.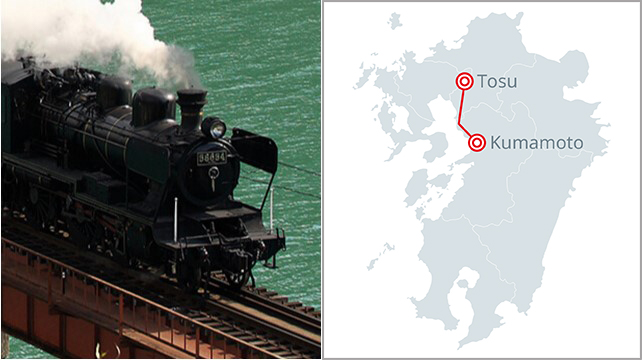 TWO STARS 4047
Begins service in fall 2022!
A train to tour the seas of West Kyushu
ISABURO / SHIMPEI
Enjoy a view regarded as one of the best three views in Japan available to be seen from a train window with sights including loop lines and switchbacks.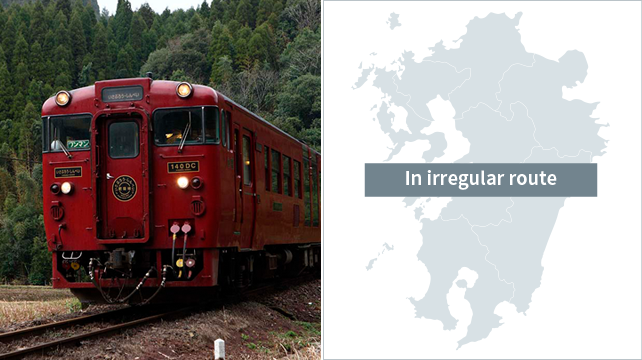 36+3
(Sanju-Roku plus San)
A new journey around Kyushu
ARU RESSHA
A luxury train that has been revived after 100 years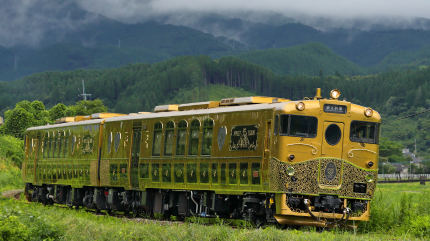 Bento box lunch reservation service
On the D & S trains of JR Kyushu, a variety of bento box lunches and snacks are sold on the train. Please note that some of the items need to be reserved in advance, before boarding the train.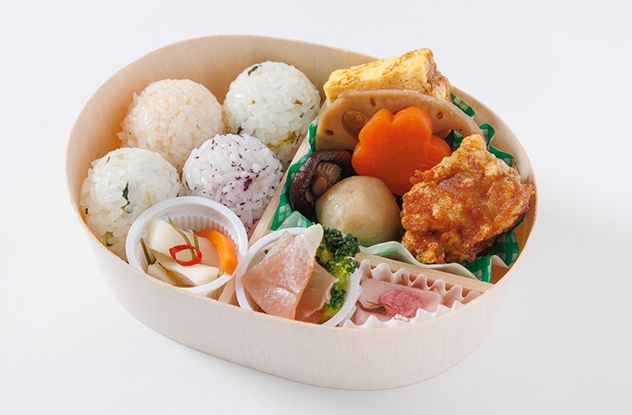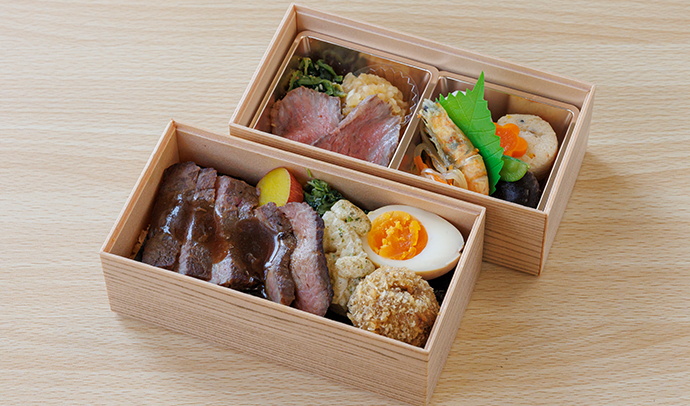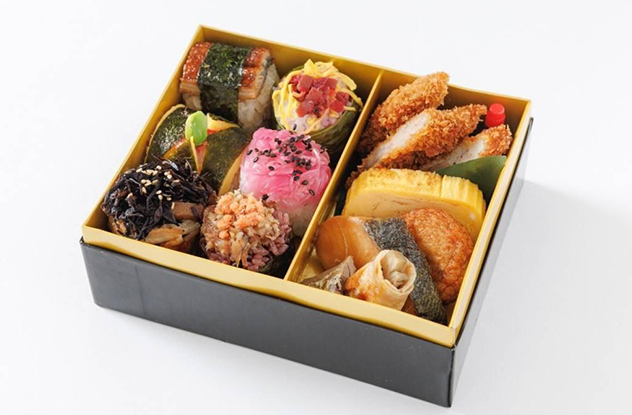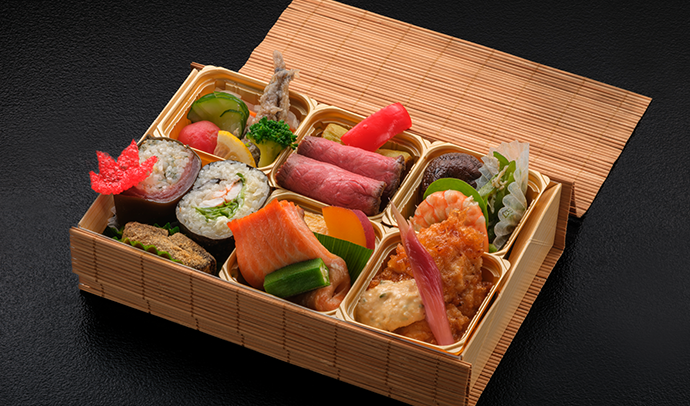 Shinkansen
(Bullet Train)
The Kyushu Shinkansen not only reduces travel time around the Kyushu area to stimulate interaction between people as well as economic and cultural exchange - it plays a key role as the pipeline for business and tourism that connects Kyushu with the Kansai and Sanyo areas.
800 Series
Shinkansen
A luxurious train trip in a car decorated with traditional Japanese arts and crafts
N700 Series
Shinkansen
Aerodynamically the fastest train connecting Kyushu and Honshu.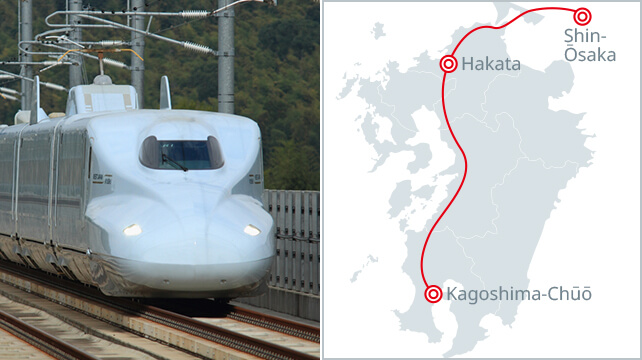 Nishi Kyushu
Shinkansen
Begins service in fall 2022!
Please look forward to seeing yet another leap forward for the "Kamome" as the Nishi-Kyushu Shinkansen.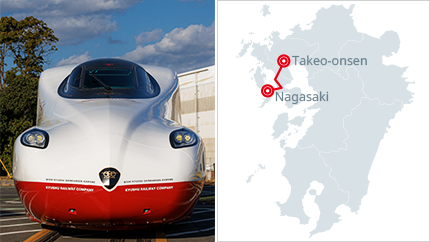 Other Limited Express
The railways operated by JR Kyushu are not just a means of transportation - they connect the cities of Kyushu. Full of personality, simply riding one makes for a fascinating experience in itself. Whether it be a relaxing trip or one that is just for fun, these trains will take you on tranquil journeys through the breathtaking landscapes and nature that make up Kyushu.
Relay KAMOME
Begins service in fall 2022!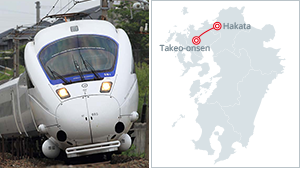 SONIC
(883 Series)
East Kyushu intercity urban express that is true to its "SONIC" name.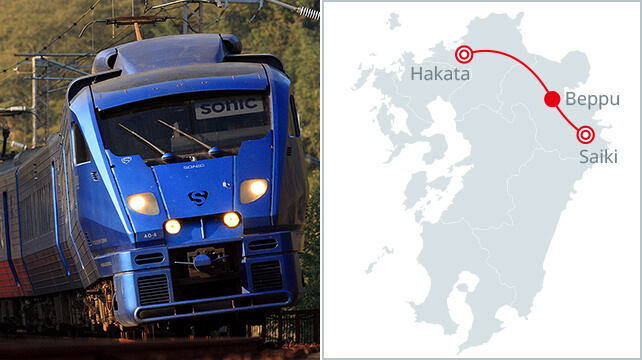 HUIS TEN BOSCH
Direct route to "Huis Ten Bosch", the largest theme park in Japan!
KYUSHU ODAN
TOKKYU
Travel to famous sightseeing spots on this red-hot train!
Other limited
express train
services
Each area and each line offers its own unique railroad experience. Try to experience each of the trains.
Train Lineup
Design & Story Trains (Sightseeing Trains)
Shinkansen (Bullet Train)
Other Limited Express
Timetables
This PDF includes the timetables for regular services of trains operated by Kyushu Railway Company.
*JR Kyushu Rail Pass can't be used on the Shinkansen between Hakata Sta. and Shin-Osaka Sta.
Purchase a Rail Pass
You can purchase JR Kyushu Rail Passes and reserve seats on popular Kyushu trains.
One-way and
round-trip tickets
Purchase one-way and round-trip tickets, reserved seats, and early discount tickets from the JR-KYUSHU Train Reservation page.