JR KYUSHU TRAINS
Limited Express
Yufuin no Mori
Resort train that leads you to Yufuin, an exquisite hot springs resort
Yufuin is a hot springs resort surrounded by rich variety of nature. Experience its popular sophisticated culture and heartwarming treats. The JR train "Yufuin no Mori" reflects the many charms of Yufuin. Once you step in the train, the warm yet modern wooden interior will make you feel like you are at a resort.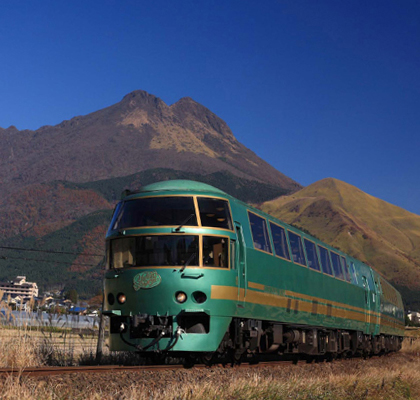 Cabin interior
Lounge
Any passenger can avail themselves of this space. Shortly before arriving at Yufuin, a cabin attendant will provide you with travel information on the resort. (Yufuin no Mori No. 3 and 4)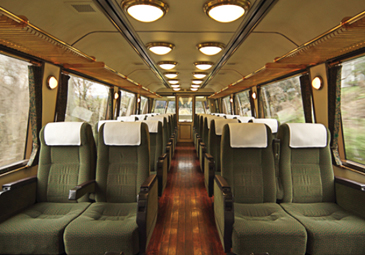 Passenger Cabin
Passenger Cabin Enjoy a relaxing seat in the classical atmosphere. (Yufuin no Mori No. 3 and 4)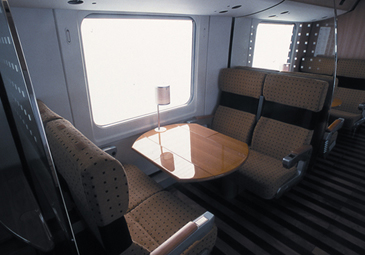 Booth seating
If there are of 3 to 4 in your traveling party, it is a good idea to reserve booth seats with a table. (Advance reservation required)
Car joining section
The double-decker carriages of the Yufuin no Mori, with their beautiful views, are linked by connecting bridges.
[Note] Please note that due to its double-decker configuration, steps are required to board "Yufuin no Mori." Walkways on the train are narrow (550mm) which may not be wide enough for a wheelchair to pass through. If you may require use of a wheelchair, please advise JR staff in advance.
The interior of Kyushu Shinkansen and D&S Train will be covered on Google Street View.
Enjoyment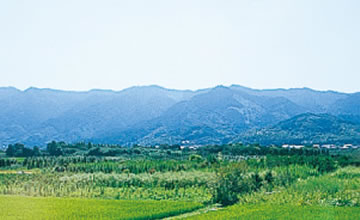 Minou Mountains

You can enjoy a view of the Minou Mountains in the distance when traveling between Kurume and Hita.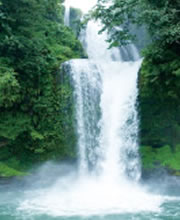 Jion-no-taki Falls

After the train (bound for Yufuin) passes Amagase station, you will be able to see the Jion-no-taki Falls on your right. This waterfall is illuminated at night.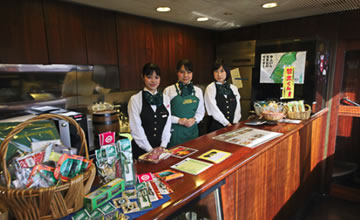 Bar counter

Bento lunch boxes and beverages as well as desserts are available at the Bar counter. You can also purchase original souvenirs while on board. (Yufuin no Mori No. 3 and 4)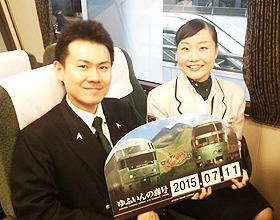 Photo services

Our cabin attendants will help you to make your trip a memorable journey. You can borrow a cabin attendant's hat to for pictures.
On-board souvenirs/bento-boxes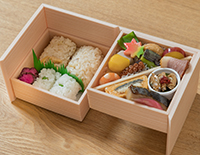 Orizuru Bento

The lunch box available only inside the train, supervised by the one Michelin star well-established restaurant "Sushi Takemoto" located in Kitakyushu.
1,620 yen (tax included)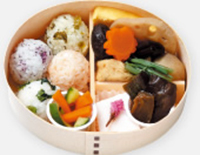 Yufuin Wappa

Colorful lunch box containing 4 convenient-sized rice balls.
720 yen (tax included)
Yufuin no Mori Bento

The lunch box made in the motif of Japanese taste, in which mixed rice with mushrooms and vegetables from Yufuin can both be enjoyed.
1,100 yen (tax included)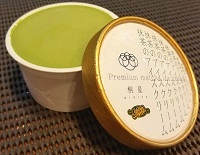 Kiriya Green Tea Ice Cream

The Japanese tea specialty shop in Yufuin, Kiriya's full-flavored green tea ice cream made from high-quality Matcha green tea.
400 yen (tax included)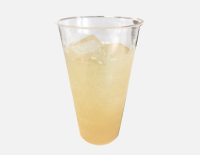 Yuzu Squash

The recipe of the squash is from "Tea Room Nicole" located in a long-established Japanese inn, "Tama-no Yu" in Yufuin. Yuzu and honey from Hita City, Oita is used to make the taste refreshing.
350 yen (tax included)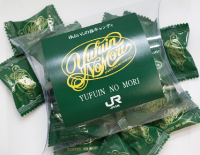 Original Candy

Packed in an original package with the logo of the Yufuin no Mori train. The candy is easy on the body with no artificial coloring added.
310 yen (tax included)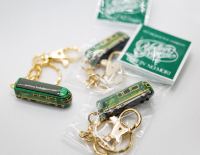 Model Train Keychain

740 yen (tax included)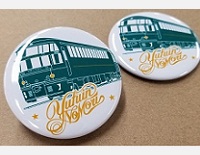 Original Magnet

310 yen (tax included)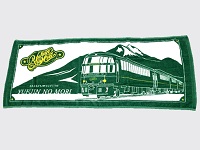 Original Towel

1,000 yen (tax included)
*There are some cases that the on-board sales is not open even if the train is operating on. Please be understanding in advance.
Destinations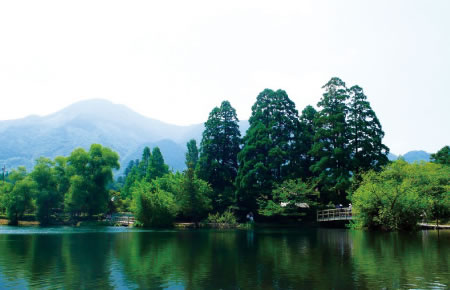 Kinrinko Lake

Hot spring and a crystal water stream up from the bottom of this lake. It is said that the lake water completely changes twice a day. The shrine gate in the lake was transferred from the Bussanji Temple under the Shinbutsu Hanzen (Shinto and Buddhist Separation) Order during the Meiji period.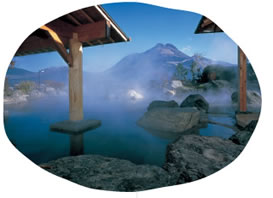 Musouen Hotel

Refresh yourself in the simple alkaline mineral water tub that commands a panoramic view of Yufudake Mountain! The open-air tub for women is as large as 150 tatami mats. It is one of the largest open-air tubs in Yufuin. Relax with a spectacular view of Yufudake.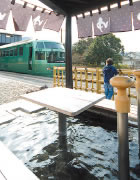 Footbath (at Yufuin Station)

You will find a footbath facility available on the Platform No. 1 at Yufuin Station. Sooth away the weariness of the journey with hot springs water directly from the source while waiting for a train.
Timetable
Stops & Time Table
Hakata - Yufuin: 2 round trips a day Hakata - Beppu: 1 round trip a day/daily operation
As of March 2021
Click here for timetable.(2021.3.13~2022.2.28)
Click here for connection information.*Timetables may remain valid for only a few months.
Train Configuration