JR KYUSHU TRAIN
Limited Express A-TRAIN
Named after a famous jazz tune, this is a train for adult travelers that like to reflect back on the good old days.
The theme behind this train was "the Southern European culture prevalent in Amakusa in 16th century. " Interior is constructed using dark tone woods and stained glass and will give you a feeling as if you are in a movie scene. This train will certainly provide you with a memorable jouyrney.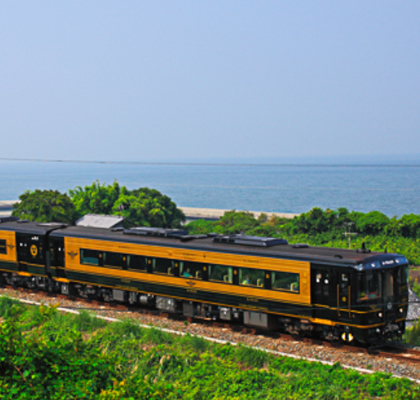 Cabin interior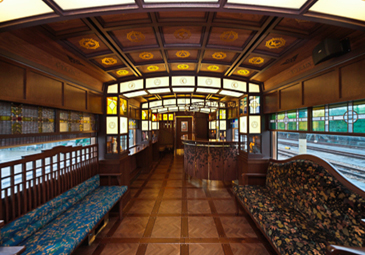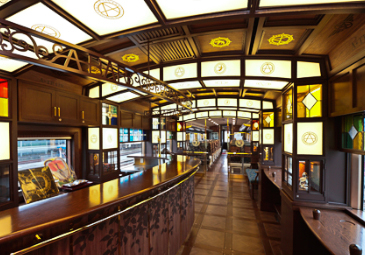 A-TRAIN BAR (Car-1)
How about spending some relaxing time with your favorite drink at the A-TRAIN BAR?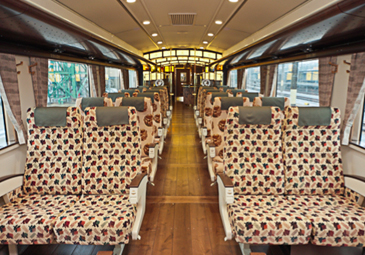 Car-1: Cabin
Seats are covered with fabric with classical patterns.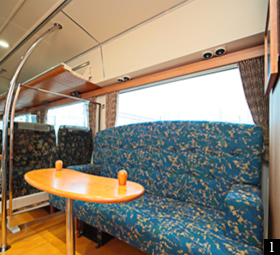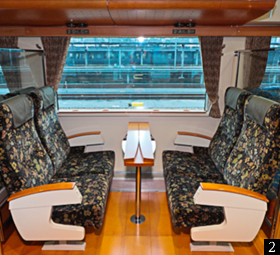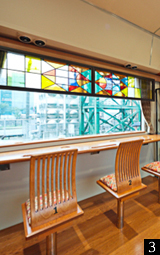 Booths with a large folding table and sofas are also available. There are window seats for children.
1Car-2: Sofa2Car-2: Booth3Car-2: Kids Chairs
The interior of Kyushu Shinkansen and D&S Train will be covered on Google Street View.
Enjoyment
Okoshiki Beach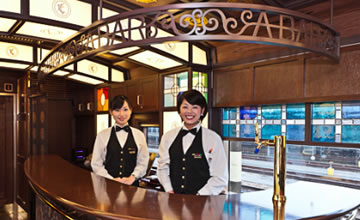 Bar counter

A-TRAIN BAR (Car-1) is furnished with comfortable benches and sofas. Sit back and relax with your favorite drink.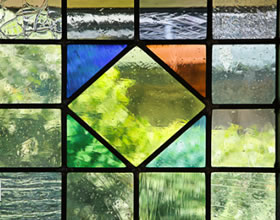 Stained glass

Stained glass enhances the beautiful interior of the train. A famous jazz piece, "Take the 'A' Train," arranged by Minoru Mukaiya plays in the background, setting the mood for your journey.
Commemorative ticket

All passengers will receive this ticket. It is also has space for a stamp that will help you memorialize your trip.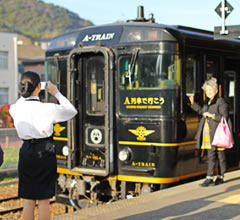 Photo services

How about a photo holding the special panel? Cabin attendants will help you memorialize your trip. Please feel free to contact your cabin attendant.
On-board souvenirs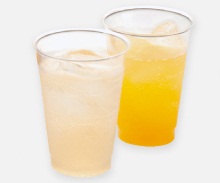 Highball

530 yen (tax included)

"A" Highball (Decopon)

530 yen (tax included)
Highball with local Decopon orange is offered.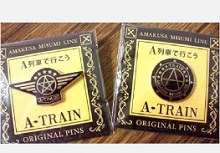 Pin Badge (Feather/ Logo Mark)

Each 530 yen (tax included)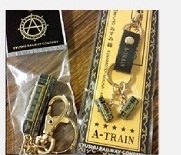 (Left) Model Train Keychain

740 yen (tax included)

(Right) Mobile Phone Strap

840 yen (tax included)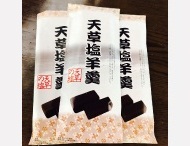 Amakusa Salt Bean Jelly

Solar salt from Amakusa is added, and its moderate saltiness brings out the bean jelly's sweetness.
440 yen (tax included)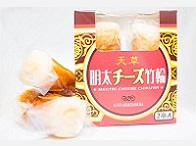 Mentai Cheese Chikuwa

Chikuwa made using Red seabream, the Mentai cheese filling creates a mellow taste.
670 yen (tax included)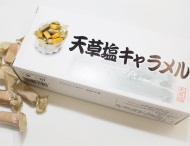 Amakusa Salt Caramel

Solar salt from Amakusa is added to the caramel, characterized by a hint of saltiness and mild taste.
380 yen (tax included)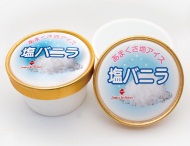 Salt Vanilla Ice Cream

Mineral-rich salt from Itsuwa, Amakusa City is added to the vanilla ice cream, and a hint of saltiness makes the rich taste of ice cream refreshing.
310 yen (tax included)
*There are some cases that the on-board sales is not open even if the train is operating on. Please be understanding in advance.
Destinations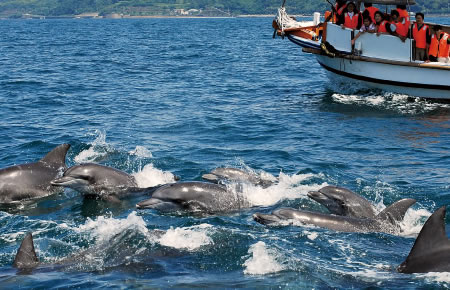 Dolphin Watching (operated by SEA CRUISE)

You can watch cute Indo-Pacific bottlenose dolphins swimming right in front of your eyes. If you are lucky, they may leap for you. Please contact SEA CRUISE for cruise departure time and fees.Please refer to this link for detail.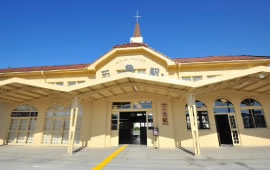 Misumi Station

The Misumi Station building renovations were timed to coincide with the launch of "A-TRAIN." The Southern European-style building blends in with the many Catholic churches found in the Amakusa area. The Amakusa Takarajima Line terminal is located only a 2-minute walk from Misumi Station.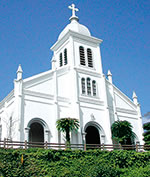 Oe Cathedral

This is a Romanesque-style cathedral that was built in 1933 by a priest named Garnier who dedicate his life to missionary work and his followers. It is said that the priest also influenced Tekkan Yosano, a Japanese author and poet.
Timetable
Stops and timetable for the A-TRAIN and connection to Amakusa Takarajima Line cruises
3 round trips a day
As of March 2021

Click here for timetable.(2021.3.13~2022.2.28)
Click here for connection information. *Timetables may remain valid for only a few months.
●All Limited Express "A-TRAIN" in operation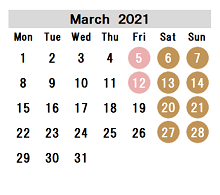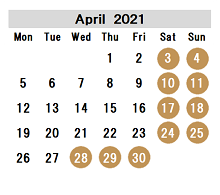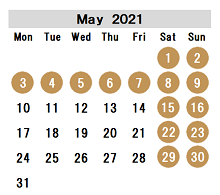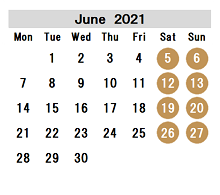 *Operation schedule after July 2021 is not decided. It will be announced as soon as decided.
Train Configuration