JR KYUSHU TRAINS
Limited Express
Sonic (883 Series)
East Kyushu intercity urban express that is true to its "Sonic" name
White 885-series trains and metallic blue 883-series trains are used. Both use the tilting mechanism that reduces centrifugal forces in order to maintain both smoothness and speed when the train is going around a curve. Why not experience this high quality ride?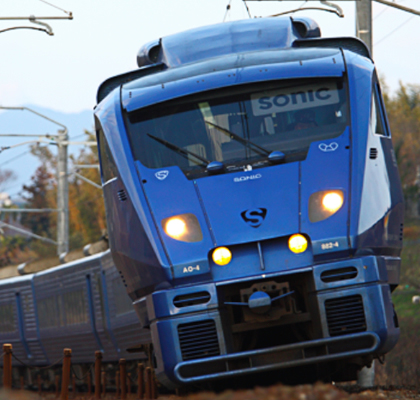 Cabin interior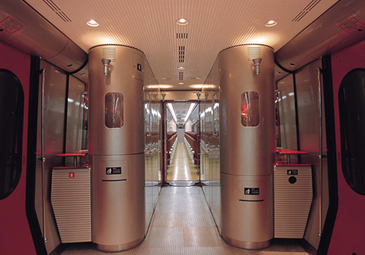 Entrance walkway
Metallic walls with vivid colors and embossed aluminum floors give it a super modern look as if leading travelers on a wonderland journey.
Cabin (Green Car)
All seats including headrests are made of genuine leather. Electric reclining provides you with maximum comfort.
Panorama Cabin(Green Car)
Children would love this Panorama Cabin from which you ran srr the driver' s seat.
It will provide a great Elletllory far your children.
Cabin (Coach)
Special Moquette seats and genuine leather headrests ensures comfort. Wooden floor give it a warm atmosphere.
Enjoyment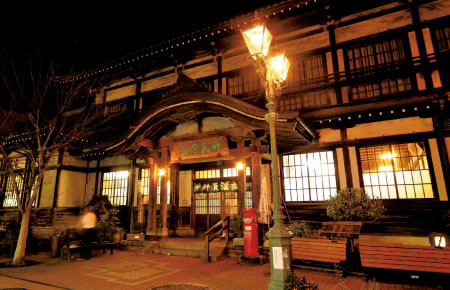 Takegawara Hot Springs

This building is the landmark of the Beppu Hot Springs resort. In this gorgeous karahafu zukuri (cusped gable) style building, hot springs tubs as well as geothermal-heated sand baths are available. The high-ceiling early-Showa inspired lobby provides a relaxing space after bathing.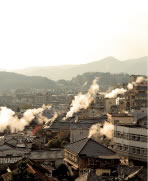 Hot springs steam

The scenery of steam coming out of the chimneys of hot springs facilities in Beppu is something that Japanese have enjoyed for ages. In Meiji period, well-known authors such as Akiko Yosano and Kyoshi Takahama also fell in love with the landscape and even wrote about it. The cultural landscape of Beppu, a hot springs wonderland, was awarded second prize in "The 100 Landscapes of Japan to be Preserved for 21st Century."
Timetable
Click here for timetable.(2021.3.13~2022.2.28)
Click here for connection information. *Timetables may remain valid for only a few months.