JR-KYUSHU
Train Reservation
JR-KYUSHU Train Reservation is a service that allows you to book tickets for JR Kyushu and JR-West. Recommended for customers who want to find or book one-way or round-trip tickets.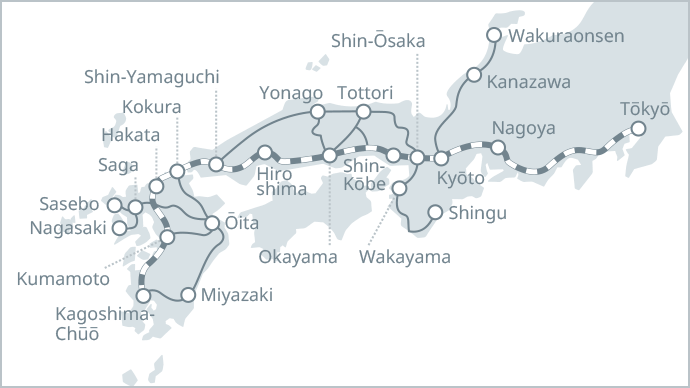 One-way and
round-trip tickets
Booking on PC or
Mobile Phone
Reservations can be made between the following times:05:30-23:00(JST)

Reservations open: From 10:00 a.m. 1 month prior to the date of departure (reservations can be made up to 6 minutes before departure.)

Number of seats that can be reserved at a time: up to 7

Payment method: Credit card (online)
Picking Up Your Ticket
Where to Collect Your Ticket
You can collect your ticket at the ticketing office or automated ticketing machine at JR-KYUSHU stations.
What you need to collect your ticket
The credit card used for the payment when making the reservation

Reservation No. (5-digit number starting with "6" you will have received on completion of the reservation)

Identification No.(A 4-digit number that can be used to pick up your ticket.)
Please allow extra time to reach the train platform when collecting tickets at the departure station as wait times at the Ticketing Office may vary.
Online Discount Tickets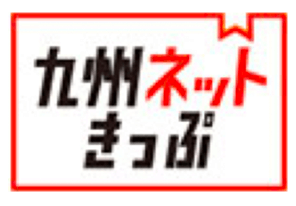 KYUSHU NET KIPPU
(Online Discount)
This online-only reservation ticket is convenient for use on Kyushu Shinkansen and limited express trains in Kyushu. Reservations may be changed as many times as you wish prior to the boarding day as long as you have not yet picked up your ticket.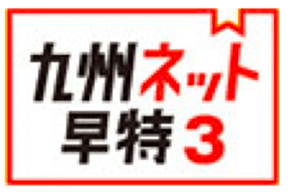 KYUSHU NET HAYATOKU3
(Online Early Discount)
This is a discounted online-only reservation ticket for reservations made up to three (3) days prior to departure. It is convenient for use on the limited express trains in Kyushu.
*The date and time stated on the conditions of sale and the handling of reservation changes are based on Japan Standard Time.
Reservation Changes
Limited to services that depart within three months of the date of your initial purchase (if no corresponding date exists in that month, then this will be applicable until the last day of the month) and that depart on a date within one month of the initial date of departure.
(Example) If you booked a seat on a train departing on January 15 on January 1, you can change your booking as many times as you like up to and including services departing on March 31. However, if your booking is for January 15, the latest you can change your booking to is 1 month later, February 15.
A Refund fee may be required to change your reservation.
*Please note that there are restrictions to reservation changes after tickets have been collected or the specified service has departed.
*Changes to reservations for "KYUSHU NET HAYATOKU 3" may be made only up to 23:00 3 days prior to the date of departure.
*Ticket purchases (payment) will be finalized when the Reservation Complete screen is displayed and an e-mail notifying the completion of the reservation has been sent by us. With this, the reservation will be established (contract concluded).
When making changes to a ticket for which the reservation has been established, a new credit card payment will be effected, and the previous payment will be reimbursed to the customer without fee via the credit card company.
One-way and
round-trip tickets
JR-KYUSHU Train
Reservation