JR KYUSHU TRAINS
Isaburo / Shinpei
Enjoy one of the best views from a train window with sights that include loop lines and switchbacks
This train operates between Kumamoto-Hitoyoshi and Yoshimatsu (Kagoshima). The train bound for Yoshimatsu is named "Isaburo" and the train bound for Kumamoto-Hitoyoshi is named "Shinpei." These train names are of two individuals who dedicated their lives to railroad development during the Meiji period.
Passengers will enjoy great views of the Kirishima Mountains and of the Sakurajima Volcano from the large train windows.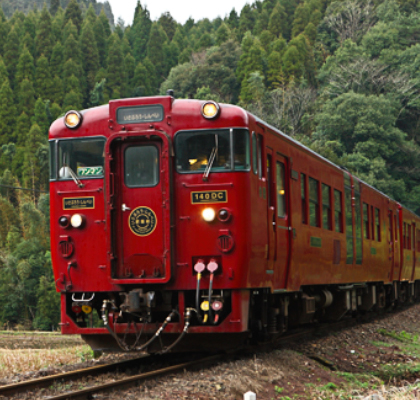 Cabin interior
Passenger cabin
wooden interior makes for a warm inviting atmosphere.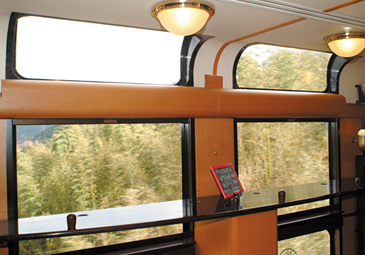 Observation lounge
Enjoy breathtaking scenery through the wide panoramic windows and the refreshing feeling when passing through green "tunnels."
The interior of Kyushu Shinkansen and D&S Train will be covered on Google Street View.
Enjoyment
Panoramic view

On clear days, you will see the splendor of the Kirishima Mountains across Ebino Basin. This rail route has been selected as one of Japan's top three for extraordinary views.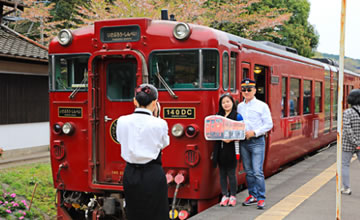 Photo services

How about a photo holding the special panel? Cabin attendants will help you memorialize your trip. Please feel free to contact your cabin attendant.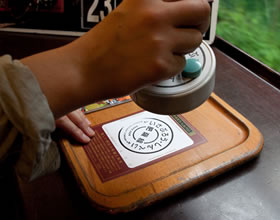 Commemorative ticket

All passengers will receive this ticket. It is also has space for a stamp that will help you memorialize your trip.

Loop Line & Switchback

This is the only switchback within a loop line in Japan and can be seen near Okoba Station.
You can witness the train making a loop and switchback in order to climb a steep slope.
On-board souvenirs
Hayato no Kaze & Isaburo / Shinpei Mobile Phone Strap

840 yen/each(tax included)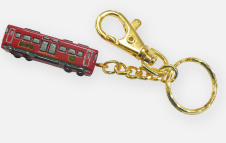 Isaburo / Shinpei Model Train Keychain

740 yen/each(tax included)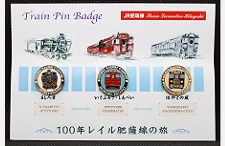 Pin Badge Set

The original goods set of Isaburo / Shinpei, Hayato no Kaze, and SL Hitoyoshi's pin badges.
1,100yen(tax includued)
*There are some cases that the snack-bar is not open even if the train is operating on. Please be understanding in advance.
Destinations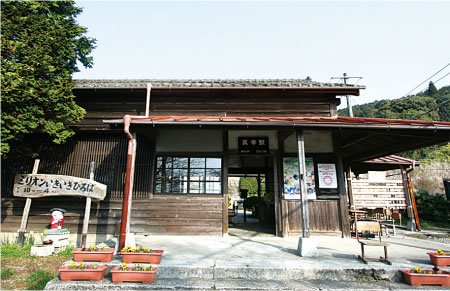 Masaki Station

Masaki Station is the only station of Hisatsu Line that is located in Miyazaki Prefecture. You will see this classical wooden station building during the train switchback. There is also a small rock garden. The bell used in actual operations before the privatization of the Japanese National Railways is a popular ornament among travelers and is thought to bring happiness.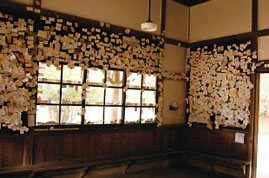 Okoba Station

Only switchback station in Japan located on a loop line. There is a myth that you will be promoted if you leave your business card on the wall here.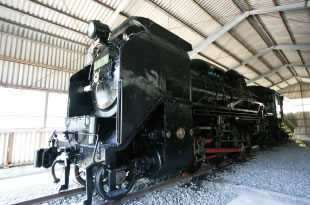 Steam locomotive on display at Yatake Station

Meet the majestic D51 steam locomotive.
Timetable
Stops & Timetable
2 round trips a day / Daily operation
As of March 2020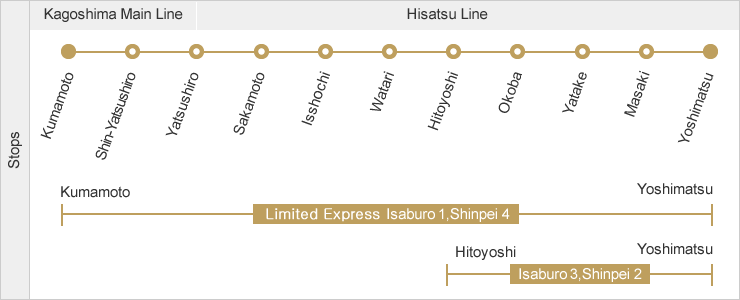 Click here for timetable.(2020.3.14~2021.2.28)
Click here for connection information. *Timetables may remain valid for only a few months.
Train Configuration

*Configuration of Isaburo/Shinpei may vary depending on the operation date.