Train Varieties
UMISACHI YAMASACHI
Nichinan Line's resort express allows you to enjoy the rich natural surroundings of Miyazaki, a land of myth
Nichinan Line's resort express allows you to enjoy the rich natural surroundings of Miyazaki, a land of myth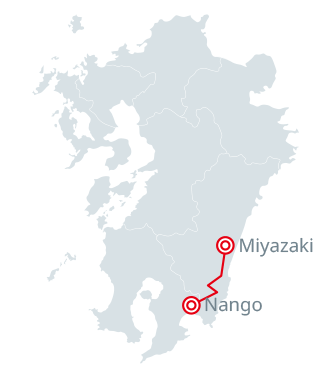 This is a popular sightseeing train where you can enjoy the beauty of Miyazaki's coast and mountains. Coastal views quickly change into deep-green mountains. As the name of the train suggests, you can enjoy a wide variety of views from the window of this train. Local obisugi (cedar) wood is used for both the interior and exterior of the train and creates the ambience of a resort.

How to connect Free Wi-Fi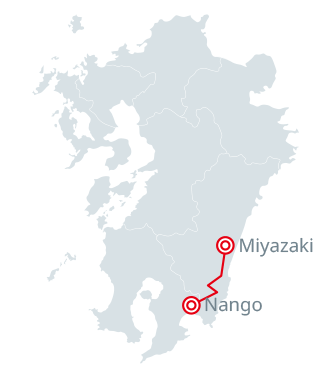 Sofa seat
One of the best parts of a train journey is that you can enjoy more personal space while traveling. Sofa seats are available in both Umisachi and Yamasachi cars. Spend some relaxing time in conversation with your fellow travelers.
Reclining seat
All reclining seats require a reservation. Sit back and enjoy views of the southern countryside.
Customer Service Counter
Adjacent to the sofa seating area in the Yamasachi car, a Customer Service Counter is available to serve you. Miyazaki' s traditional local toys and other object made of obisugi cedar are displayed here. The space is lined with the beautiful grain of obisugicedar which creates a warm atmosphere.
Google Street View
Google Street View
Take a look at the Kyushu Shinkansen and D&S Train Interior.
A view of Devil's Washboard from the train window
Between Aoshima Island and Kinchaku Island to the south, you will see a 8km-long beach with wave-like rocks called the "Devil's Washboard." The coastal soil has been washed by ocean wave for such a long period of time that only the layers of the hard sandstone bed remain. They resemble a giant washboard beach and people can walk on it when the tide is low.
On-board picture story show
Cabin attendants will provide a picture story of the "UMISACHI YAMASACHI Legend".
(UMISACHI YAMASACHI No.1 and 3)
Commemorative Card
All passengers will receive this card. It also has a space for a stamp that will help you memorialize your trip.
On-Board Sales
*There are some cases that the on-board sales is not open even if the train is operating on. Please be understanding in advance.
Obi Castle Remains
Obi Castle was said to be built in the period of the Northern and Southern Courts (Japan). The front castle gate was restored in 1978 and is the only remaining building. This place is also known as a great cherry blossom viewing spot in spring.
Gallery Kodama
Enjoy a relaxing time at this gallery building, a restored merchant house from the Meiji period.
Subtropical Crop Research Institute / Botanical Garden
This is a subtropical botanical garden located adjacent to the roadside station, "Michinoeki Nango". You will be able to see a wide variety of rare flowers and fruits in a huge glass-covered greenhouse.
Char-broiled Pole-and-line-caught Nichinan Skipjack
Nichinan has the highest yield of skipjack caught by pole-and-line method. This dish has become very popular locally since it was first introduced in May 2010, and is now attracting visitors from all around Japan. Skipjack is normally consumed raw or lightly roasted. Char-broiled is a totally new way. Enjoy the special dish that you can find only here in Nichinan area.
Timetable
Station List and Time Table
2 round trips a day / Daily operation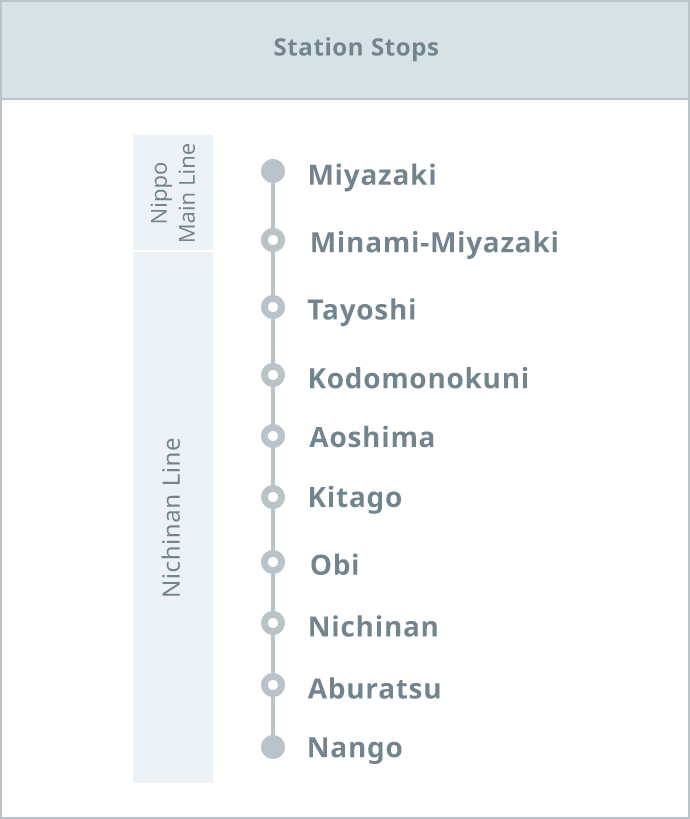 Miyazaki ⇒ Nango
Only major stops are listed.
For Nango
Miyazaki
Lv.
Minami-Miyazaki
Lv.
Aoshima
Lv.
Kitago
Lv.
Obi
Lv.
Nango
Ar.
UMISACHI YAMASACHI 1
10:13
10:18
10:36
11:05
11:22
11:45
UMISACHI YAMASACHI 3
13:53
14:01
14:23
14:48
15:00
15:23
For Nango
UMISACHI
YAMASACHI 1
UMISACHI
YAMASACHI 3
Miyazaki Lv.
10:13
13:53
Minami-Miyazaki Lv.
10:18
14:01
Aoshima Lv.
10:36
14:23
Kitago Lv.
11:05
14:48
Obi Lv.
11:22
15:00
Nango Ar.
11:45
15:23
Nango ⇒ Miyazaki
Only major stops are listed.
For Miyazaki
Nango
Lv.
Obi
Lv.
Kitago
Lv.
Aoshima
Lv.
Minami-Miyazaki
Lv.
Miyazaki
Ar.
UMISACHI YAMASACHI 2
11:52
12:21
12:30
12:59
13:23
13:27
UMISACHI YAMASACHI 4
15:30
15:53
16:03
16:29
16:50
16:53
For Miyazaki
UMISACHI
YAMASACHI 2
UMISACHI
YAMASACHI 4
Nango Lv.
11:52
15:30
Obi Lv.
12:21
15:53
Kitago Lv.
12:30
16:03
Aoshima Lv.
12:59
16:29
Minami-Miyazaki Lv.
13:23
16:50
Miyazaki Ar.
13:27
16:53
Operation Schedule
All "UMISACHI YAMASACHI" in operation.

Only "UMISACHI YAMASACHI" No.1,4 in operation
| Su | Mo | Tu | We | Th | Fr | Sa |
| --- | --- | --- | --- | --- | --- | --- |
| | | | 1 | 2 | 3 | 4 |
| 5 | 6 | 7 | 8 | 9 | 10 | 11 |
| 12 | 13 | 14 | 15 | 16 | 17 | 18 |
| 19 | 20 | 21 | 22 | 23 | 24 | 25 |
| 26 | 27 | 28 | 29 | 30 | | |
*Timetables may remain valid for only a few months.
Train Configuration
Smoking is prohibited on this train.
R

Reserved

N

Non-reserved

Car number
UMISACHI YAMASACHI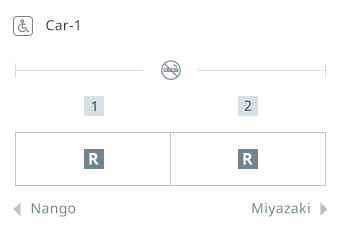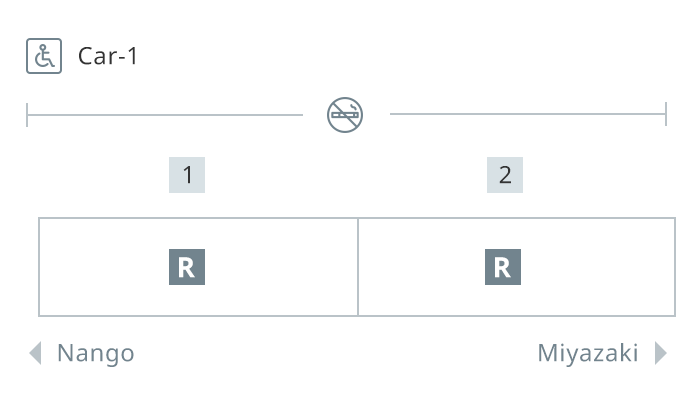 Purchase a Rail Pass
You can purchase JR Kyushu Rail Passes and reserve seats on popular Kyushu trains.
One-way and
round-trip tickets
Purchase one-way and round-trip tickets, reserved seats, and early discount tickets from the JR-KYUSHU Train Reservation page.
Train Lineup
Design & Story Trains (Sightseeing Trains)
Shinkansen (Bullet Train)
Miyazaki Craft Mango
This freshly tasting Mango Cider is made with mango juice grown in Miyazaki. The sweet, tropical taste of mango is mixed with soda to create the refreshing taste.
270 yen(tax included)
Craft Beer(Taiyo-no Lager)
It's the gold award winner in two large national craft beer contests. Mineral-rich natural water, which is a nutrient essential to beer yeast, is used.
710 yen(tax included)
Shochu "UMISACHI YAMASACHI"
Mix of white and black Koji seeds are used to create the mild and mystic flavor.
320 yen(tax included)
Cheese Manju
Miyazaki's famous Manju cake, "Cheese Manju" produced by the long-established cake shop, "Fugetsudo". Soft texture of dough and rich flavored cheese filling can be enjoyed.
160 yen(tax included)