Supplier Management
Understanding of our Basic Procurement Policy and Cooperation in the Implementation of What is Required of Our Suppliers
Based on our Basic Procurement Policy, we promote the implementation of ESG in relation to compliance with social norms, respect for human rights, and consideration for the environment in order to realize a sustainable society through business activities.
Based on our statement of What is Required of Our Suppliers, we request that our suppliers understand and cooperate in the implementation of our policies in order to work together to aim for the realization of a sustainable society.
We hold seminars to provide information on our policies and monitor their implementation by suppliers through questionnaires and discussions.
 ⇒Link(Basic Procurement Policy)
 ⇒Link(What is Required of Our Suppliers)
Working with our Suppliers
We actively promote communication with our suppliers by holding seminars and work to provide information on our environmental policy and social supply chain policy as defined under our Basic Procurement Policy.
As part of our training for our business partners, we invite external lecturers to hold workshops on the Group's environment and future initiatives from an ESG perspective. During the training, participants learn about the importance of compliance with social norms, respect for human rights and environmental considerations, as well as the Group's future initiatives.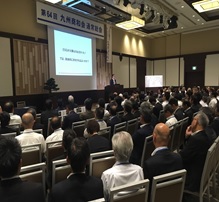 Ensuring Management in Accordance with our Policies
We implement monitoring by visiting our suppliers on an irregular basis for the purposes of quality control and to ensure that management is being carried out in accordance with our policies.
During these visits, inspection is performed through discussions based on questionnaires designed to confirm that our suppliers are implementing our policies.
In FY2020, taking into account the spread of the new coronavirus infection, we conducted written quality control surveys of three of our business partners. In addition, on-the-spot interviews were conducted with three business partners. In FY2021, we are conducting a questionnaire survey of all our suppliers in order to investigate and risk assess their efforts to address human rights and other social issues.
Sample questions from questionnaires
◇Questionnaire relating to environmental issues
Do you comply with all laws and regulations regarding the prevention of the pollution of air, water, soil, etc. in your country or region?
Do you implement measures to reduce pollutants and prevent environmental pollution?
◇Check sheet relating to societal issues
Do you give due consideration to employees' health, improving productivity and working hours (elimination of excessive working hours, encouraging employees to take paid leave, etc.)?
Do you comply with international standards regarding human rights and labor practices (prohibition of child labor and forced labor, elimination of discrimination, etc.)?
Implementation of Environmentally Friendly Procurement
As stated in our Basic Procurement Policy , we implement procurement with due consideration for the environment. In FY2019, the packing used for rolling stock brake parts was changed to recyclable pallets in order to reduce the volume of waste produced and lessen our environmental footprint.