JR Kyushu User Benefits
JR Kyushu User Benefits
○JR Kyushu Rail Pass (All, North, South)
○JR Kyushu Rail Pass (Fukuoka Wide)
○Sanyo–San'in Northern Kyushu Pass
○SUGOMON PASS


Customers who use products above can recive special benefit at shops/facilities if presenting the Pass.
Target product or conditions are different according to shops, please notice.
Expiration Date

March 31,2021
Fukuoka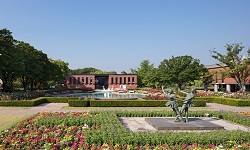 Name
KURUME CITY ART MUSEUM
Target Product
JR Kyushu Rail Pass (All, North, South)
JR Kyushu Rail Pass (Fukuoka Wide)
Sanyo–San'in Northern Kyushu Pass
SUGOMON PASS

Introduction
Art museum located inside the Ishibashi Cultural Center. Collection includes modern paintings with connections to Kurume and Kyushu.
Holds a wide variety of exhibitions.
Benefit
Admission to sponsored exhibitions at group discount price
主催展覧会入館料を団体料金に割引
Address
1015, Nonaka-machi, Kurume-shi, Fukuoka
Hours
10:00 - 17:00 (No entry after 16:30)
Holiday
Mondays (except on holidays or observed holidays),
during the exhibition preparation periods, New Year holidays(12/28-1/3).
Phone
0942-39-1131
Directions
Take the Nishitetsu Bus from JR Kurume Station and get off at Bunka Center-mae. Short walk from the bus stop.