Train seating
Reserved seat
JR Kyushu trains offer reserved seat and non-reserved seat. A Reserved Seat ticket is required to ensure seating. Reserved Seat tickets are available for purchase at any JR Kyushu ticketing office (Midori-no-madoguchi) and any JR Kyushu Travel Office branch office. (There is no additional fee for JR Kyushu Rail Pass users.) Please note that you can not take a Reserved Seat unless you have a Reserved Seat ticket.


Trains listed above only offer reserved seat. Please note that these seats may have already been sold out.


Find the name of your train on the board above the ticket gate and check the platform from which train departs.
Find your car number indicated on your ticket.
Find your seat indicated on your ticket.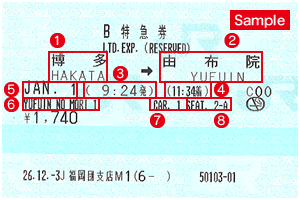 Departure station
Destination station
Time of departure
Time of arrival
Date of departure
Name of train
Car number
Seat number
Non-reserved
Non-reserved seating cars/sections are indicated with a sign "自由席", "自由", "自" or "NON RESERVED." You can take any available seat in this car/section.