Material Procurement Information
3.Standard Flow of Transaction Procedures
First, for transactions with JR Kyushu, it is necessary to register as a supplier. After registration is completed, a transaction contract will be concluded for each individual procurement case.
(1)Flow of Supplier Registration Procedure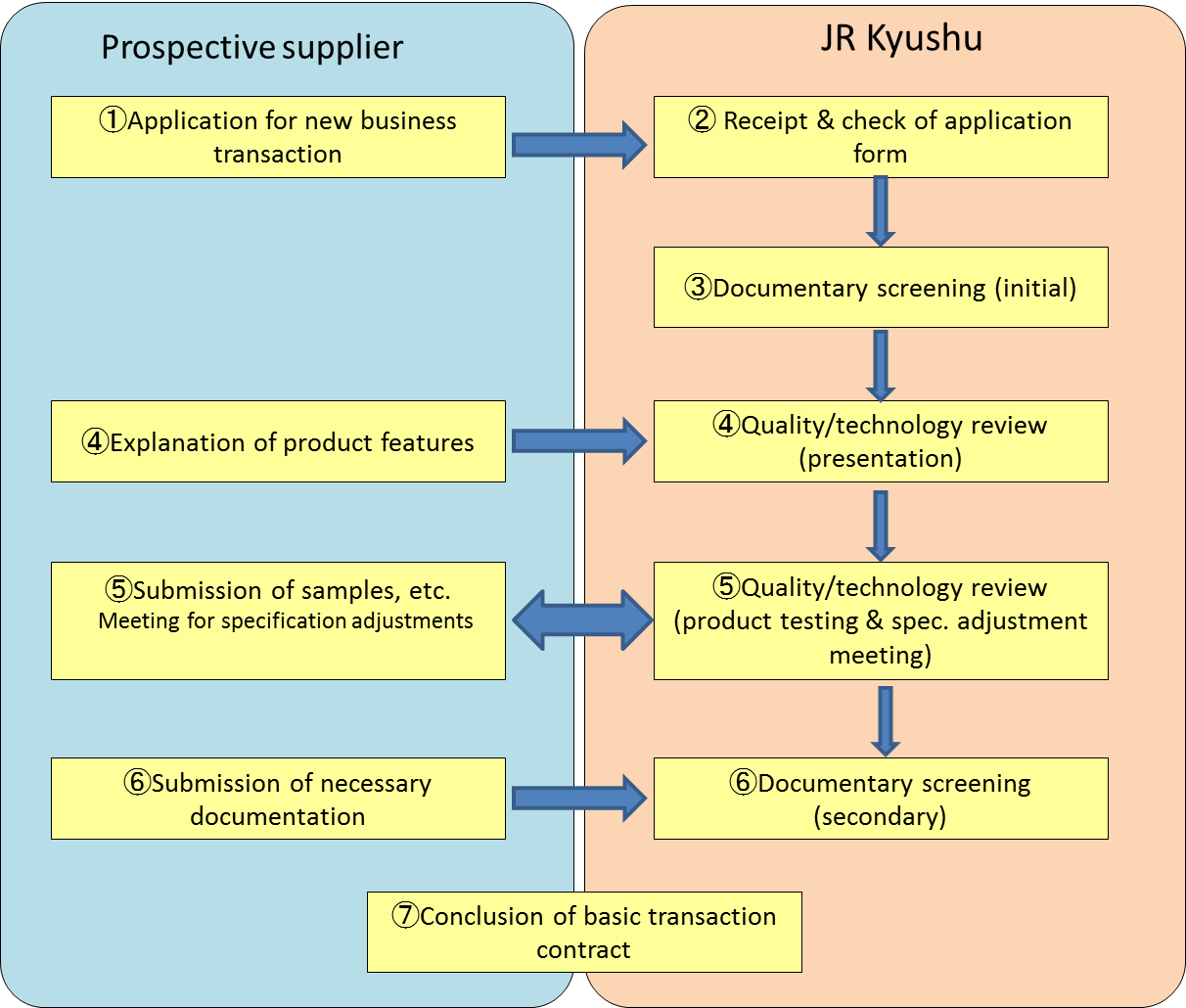 ①Application for new business transaction
Prospective suppliers wishing to do business with JR Kyushu will need to complete the prescribed application form and submit it to us. For the application form, access:http://www.jrkyushu.co.jp/company/business/procurement/shinki.html(Japanese). Required information includes: company name, contact person, business description, the amount of sales, and major production items (product line). For more details of required information, please refer to the application form. Please note that the application form should be filled out in Japanese.
②Receipt & check of application form
At this stage, we will check the submitted application form for any omissions or uncertainties. An incomplete application form will be returned to the applicant, who will be required to re-submit the application form or submit additional required documents. For inquiries about the registration procedure, please contact us in Japanese.
③Documentary screening (initial)
We will briefly examine the possibility and benefit of using the applicant's product(s) based on the documentation submitted (including financial conditions and past track records). Except for a situation where there is no possibility of introducing the product(s), the application will move forward to the stage of quality/technology review.
④Quality/technology review (presentation)
For the application that passes the initial screening, we will conduct a review of product quality and technology. The applicant will be requested to come to JR Kyushu to provide a more detailed explanation to our staff in charge of technology.
⑤Quality/technology review (product testing, spec. adjustment meeting)
For serious consideration of the introduction of the product(s) presented in the review mentioned in the previous section, we may request the applicant to submit samples, so that we can perform quality checks or testing. To ensure compatibility between the products and our existing systems, the applicant may also be requested to have a preliminary meeting, in which detailed discussions will be made on whether specifications can be changed to meet our needs.
⑥Documentary screening (secondary)
For the goods used for railway business, stable long-term supply is essential. Based on submitted documents and samples, we will conduct a comprehensive examination of all or any of such factors as product quality, performance, sound management, technological capabilities, supply capabilities, accident response, after-sales services and support, and reliability of delivery, as stated in our Basic Procurement Policy. (http://www.jrkyushu.co.jp/company/business/procurement/kihon.html)
⑦Conclusion of basic transaction contract and supplier registration
When a continuous business relationship is expected, we will conclude a basic transaction contract with the applicant. After that, the applicant will be registered as a supplier of JR Kyushu. A supplier code will be issued to be used for future transactions with us. JR Kyushu has introduced an electronic procurement system, which we use to ask for estimates and place orders.
(2)Flow of Goods Transaction Procedure
① Request for estimate/submission of estimate
In principle, JR Kyushu requests competitive estimates. When a need for procurement arises, we request estimates from the relevant registered suppliers which we select, giving comprehensive consideration to, among others, reliability of safety, quality, technological capability, prices, compatibility with the existing equipment/devices/systems, accident response, after-sales services and support, reliability of delivery, and quality control.
We have introduced an electronic procurement system, which we use to ask for estimates and place orders. The selected suppliers are requested to submit an estimate.
②Negotiation & conclusion of contract
In principle, negotiations on contract prices, delivery deadlines and other terms are conducted with the supplier who submits the estimate satisfying our estimate conditions. An order is placed for goods based on the terms mutually agreed upon.
③Production & delivery and inspection upon receipt
After receiving an order, the selected supplier is required to produce the goods based upon the contract description, and deliver them to the designated location no later than the contractual delivery date. At the time the goods are received, the necessary inspection will be conducted of the goods. Delivery will be considered complete when the inspection has been successfully passed.
④Payment
We will undertake the procedures for payment as stipulated in the contract.
【Notes】
In procurement procedures, Japanese will be the language of business.
With regard to a contract, it will be governed by and construed in accordance with Japanese law.
Based on JR Kyushu's terms and conditions, we may request overdue fees and compensation for damages.
The above is a standard contractual procedure. If a procedure that significantly departs from our standard contractual procedure is needed, we will have consultations with a supplier on a case-by-case basis.
Please contact us at sizai@jrkyushu.co.jp for any inquiries regarding procurement procedures.