JR Kyushu User Benefits
JR Kyushu User Benefits
○JR Kyushu Rail Pass (All, North, South)
○JR Kyushu Rail Pass (Fukuoka Wide)
○Sanyo–San'in Northern Kyushu Pass
○SUGOMON PASS


Customers who use products above can recive special benefit at shops/facilities if presenting the Pass.
Target product or conditions are different according to shops, please notice.
Expiration Date

March 31,2020
Fukuoka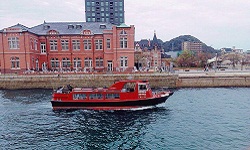 Name
Mojiko Retro Cruise
Target Product
JR Kyushu Rail Pass (All, North, South)
JR Kyushu Rail Pass (Fukuoka Wide)
Sanyo–San'in Northern Kyushu Pass
SUGOMON PASS

Introduction
A mini cruise that lets you take in the retro townscape of Mojiko from the ocean.
Benefit
10% off your fare
乗船料10%OFF
Address
1-4-1 Nishikaigan, Moji-ku, Kitakyushu-shi
Hours
10:00-18:00
Holiday
Closed irregularly
Phone
093-331-0222
Directions
A 3-minute walk from JR Mojiko Station.