JR Kyushu Rail Pass User Benefits
JR Kyushu Rail Pass User Benefits
JR Kyushu Rail Pass users will receive the following benefits and services.
In order to receive a benefit, please show your pass at applicable store or facility.
Expiration Date

March 31,2019
Fukuoka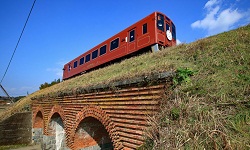 Name
Heisei Chikuho Railway Chikumaru Kippu (1-Day Ticket)
Introduction
A railway known affectionately by the nickname "Heichiku," linking Chikuho and Keichiku from Nogata Station, about one hour from Hakata Station on the JR Fukuhoku Yutaka Line. Take a daytrip and enjoy views from the train window of the bucolic natural scenery, as well as scenes of Japanese culture, such as the brick chimneys of the coal mine, the Uchida Sanren Bridge, and Issaka Tunnel. This local railway experience offers something different from both Hakata and Tenjin.
Benefit
When purchasing a Chikumaru Kippu (1-Day Ticket) on board the train or from a station ticket window (Kanada Station and Saigawa Station), show your JR Kyushu Rail Pass to receive a discounted fare of ¥900 for adults (¥100 discount) and ¥450 for children (¥50 discount).

ちくまるキップ(1日乗車券)を、列車内または窓口(金田駅・犀川駅)でご購入の際、JR九州レールパスをご提示いただければ、大人900円(100円引)、こども450円(50円引)で発売。
Address
1145-2 Kanada, Fukuchimachi, Tagawa-gun, Fukuoka Prefecture
Hours
【Ticket Window】
Weekdays ○
Public holidays ×
【On board】
365 days a year
Holiday
Please show your JR Kyushu Rail Pass to the train staff after boarding and purchase your ticket.
Phone
0947ー22-1000
Directions
Connects to JR lines at Nogata Station, Yukuhashi Station, Tagawa-Ita Station, and Tagawa Gotoji Station.