JR Kyushu Rail Pass (Fukuoka Wide)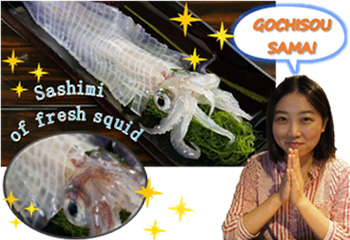 Karatsu is most famous for its fresh squid! The city has many restaurants where you can enjoy squid in a variety of ways, including sashimi and tempura. When you arrive at Karatsu, try this famous food first!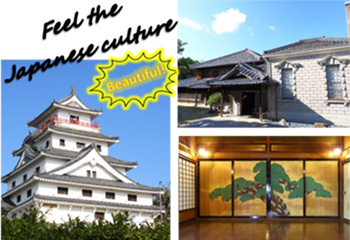 Once you've eaten your fill, take a stroll and explore the city of Karatsu.
At Takatori-tei (the Former Takatori Residence), relax in the modern spaces where Japanese and Western style meet. The view of the Genkai-nada Sea from Karatsu Castle is also magnificent!
Takatori-tei (Former Takatori Residence)MAP »
9:30 – 17:00 (last entry: 16:30)
Closed: Mondays, other irregular occasions
Karatsu CastleMAP »
9:00 – 17:00 (last entry: 16:40)
Closed: Dec. 29–31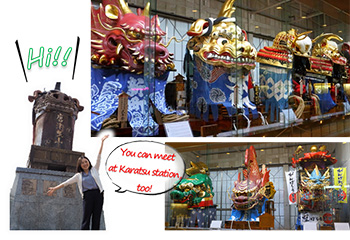 Hikiyama Exhibition Hall exhibits the Hikiyama floats used in Karatsu's most famous festival, Karatsu Kunchi. Take a photograph with these unique Hikiyama floats.
Hikiyama Exhibition HallMAP »
9:00 – 17:00
Closed: Dec. First Tuesday and Wednesday, 29–31th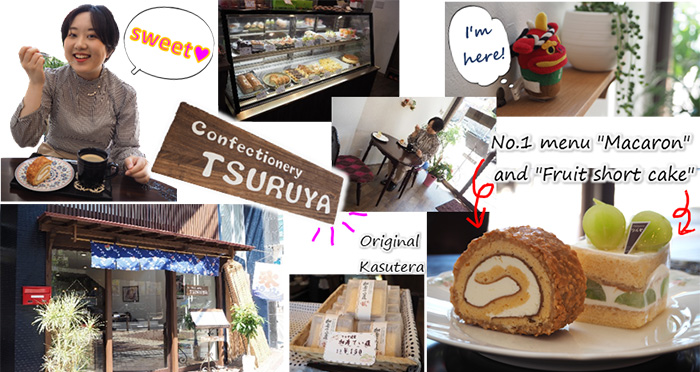 This elegant café prides itself on its interiors, filled with antique-style furniture, and the delicate flavors of its cakes! It always uses the freshest of in-season fruits. Tired from all that walking? Why not take a break and enjoy something sweet? We recommend their most popular cake, the Macaron.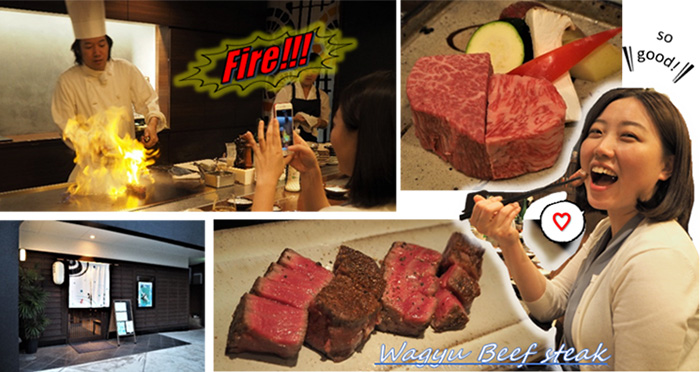 "CARAVAN" is a steak restaurant where you can enjoy Saga Beef and Imari Beef steak. The meat prepared by the hospitable chefs is exquisite! The delicious taste is sure to leave you smiling.
CARAVAN Wagyu Steak Specialty Restaurant, Karatsu・SagaMAP »
11:30 – 15:00 (LO 14:30) / 18:00 – 22:00 (LO 20:30)
Closed: Tuesdays *We will prioritize those who have prior reservation. Recommend to reserve in advance.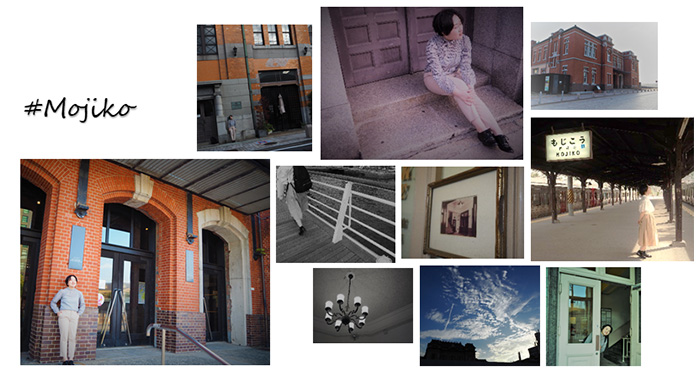 The Mojiko Retro Town, with its brick and wooden buildings, has a nostalgic atmosphere. Take a relaxing stroll along the waterfront, or take some stylish photos! You are sure to come away with a favorite shot!
Mojiko Retro TownMAP »
*Opening hours vary at each facility.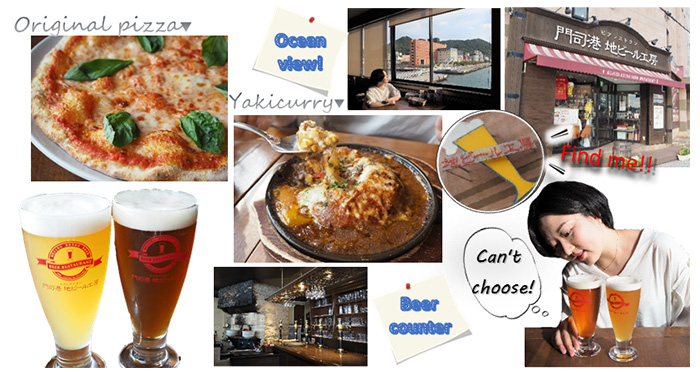 This restaurant prides itself on its house-made craft beer and delicious cuisine made with beer. As well as Mojiko's famous piping-hot baked curry (YAKI-CURRY), the springy texture of the home-made pizza dough, which is made with beer yeast, is exquisite! Propose a toast to your travel memories as you gaze out over the harbor.
Mojiko Craft BreweryMAP »
11:00 – 22:00 (Last orders: 21:15)
Closed: Jan. – Apr. 2nd and 4th Monday (or the next day if Monday is a public holiday)
Facility will be closed on certain days during the winter months for equipment maintenance.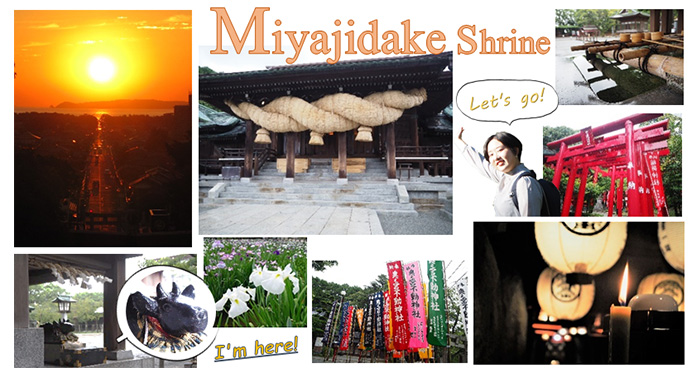 Miyajidake Shrine in Fukutsu, one of the hottest spots in Fukuoka. The shrine has many and varied events, including the Road of Light, in which the road leading to the shrine is illuminated by the evening sun just second a year, and various seasonal festivals. There are eight small sub-shrines inside the shrine grounds, and it is said that if you visit them all, your prayers will be answered. Look out for the ""Lucky cow"" in an unexpected place!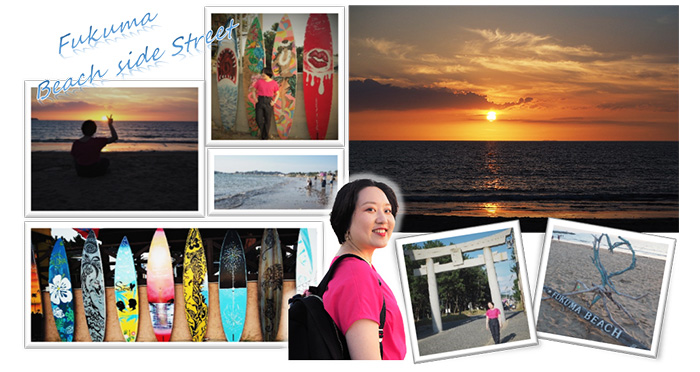 Plenty of stylish cafés, restaurants, and bars line Fukuma Beach Road, with Fukuma Beach at its center. The completely unobstructed view of the sunset from the beach is magnificent! A perfect place to visit as a couple or on a girls' trip.
Fukuma BeachMAP »
Nishifukuma 4-chome, Fukutsu-shi, Fukuoka-ken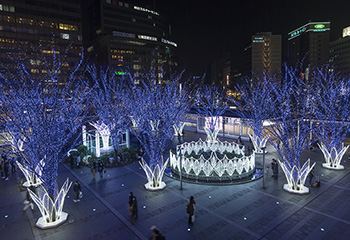 Just outside the Hakata Exit of Hakata Station, "Ekimae Hiroba" is an unmissable photo spot. At night, the lights of Hakata Station Building and KITTE Hakata create an urbane beauty that draws the eye. At Christmas time every year, the Plaza is home to a Christmas Market and beautiful illuminations! A wonderful evening awaits.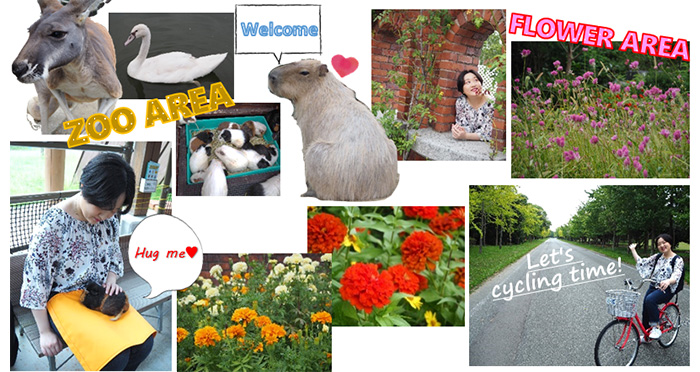 Uminonakamichi Seaside Park is where Fukuoka people go to relax. There are many zones in the staggering 300-hectare area of the park, such as an "Animal Forest" where visitors can interact with animals, and a "Flower Museum" where visitors can enjoy the flowers of the four seasons! The park is really large, so it's a good idea to rent a bicycle to go around with. It's fun for all the family!
Uminonakamichi Seaside ParkMAP »
Mar. 1 to Oct. 31: 9:30–17:30, Nov. 1 to end of Feb. : 9:30–17:00.
*Park open 9:00–18:30 on days when the pool is open.
Closed: Year-end/New Year holiday (12/31-1/1), First Monday and next day on February
*There are possibility to close when use of facility can not be kept due to weather condition (typhoon, heavy rain, earthquake, TSUNAMI...).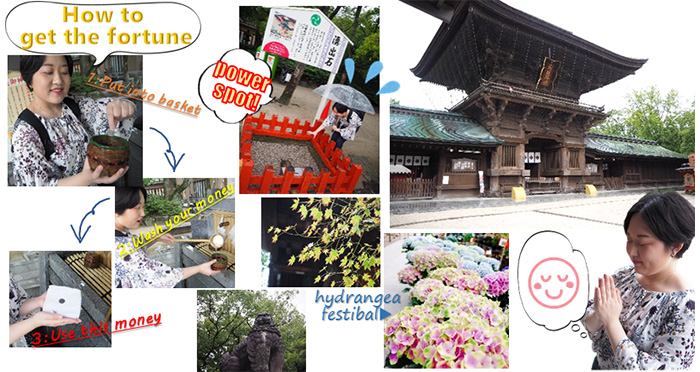 Hakozaki Shrine is famous as a shrine for bringing good fortune and success. Highlights to be enjoyed all-year-round include seasonal festivals and the flower garden. There are also items with spiritual energy in the grounds of the shrine that bring luck when you touch them, and a place where you wash coins with sacred water and take them back to wish for longevity, happiness, and good fortune. Come to Hakozaki Shrine and recharge your spiritual energy!