The interior of Kyushu Shinkansen and D&S Train will be covered on Google Street View.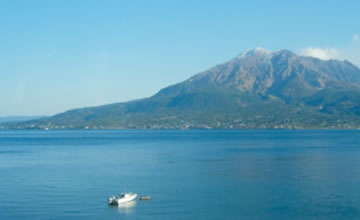 A view of Kinko Bay and Sakurajima

"Hayato no Kaze" runs alongside Kinko Bay.
You will see majestic Sakurajima Volcano across the shiny water surface.
(Between Kagoshima and Shigetomi)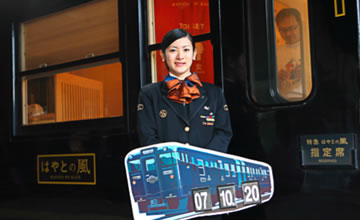 Photo services

How about a photo holding the special panel? Cabin attendants will help you memorialize your trip. Please feel free to contact your cabin attendant.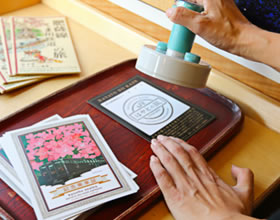 Commemorative ticket

All passengers will receive this ticket. It is also has space for a stamp that will help you memorialize your trip.
On-board souvenirs/bento lunch boxes
Hayato no Kaze, Isaburo - Shinpei Cell Phone Strap

Enjoy the cute little model of train.
720 yen/each (tax included)
Sweet Potato Pudding

Custard pudding made with only Kirishima's sweet potatoes, fresh eggs, sugar and milk.
600 yen (tax included)
*Available only on Saturdays and Sundays
Sparkling Sake "Satsuma Gold"

This is sparkling sake made from "Kogane Sengan" sweet potatoes that are grown in the Mainami-Satsuma region.
520 yen (tax included)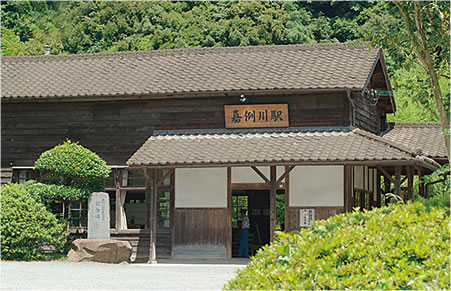 Kareigawa Station

Opened in 1903, this is one of the oldest stations on Hisatsu Line. This retro-building is a popular sightseeing spot.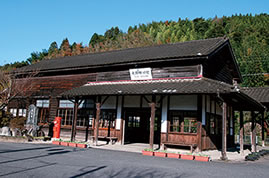 Osumi-Yokogawa Station

This is the other oldest station on the Hisatsu Line. Bullet holes from World War II can still be seen on a post on the platform. The building survived the war and is still in use today.
Stops & Timetable
2 round trips a day / Daily operation
As of March 2016

Click here for timetable.(2017.3.4~2018.2.28)(PDF)
Click here for connection information. *Timetables may remain valid for only a few months. Click here for details.